Welcome to our new look website!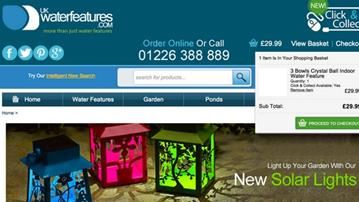 Welcome to our new look website!

Over the past few months the team here at UK Water Features have been busy in making changes to our website and are pleased to announce that today it has gone live.

New Homepage

A new simplified homepage featuring a handful of our best selling items and easy navigation links to other parts of our site.

Improved Search

We all know how the search on websites can be frustrating when trying to find items you want. Our new intelligent search facility is constantly learning and improving the search results it delivers.

Simplified Category Page

Less text and more pretty pictures to look at.


New Look Product Page

The product page has had the largest splash of paint with a brand new style and layout. All the important information can now be found on the one page removing the need to click on tabs.

Stock availability is clearly displayed along with the addition of our new click and collect functionality (more about that below!...)


Click & Collect


This has been one of the biggest change made to the website, and our business.

We now understand the need to offer our customers the chance to collect items the very same day, in fact during our opening hours items purchased online can be collected in less than 1 hour!

In addition to allowing customers the ease of collecting goods we have also launched our very own "Loyalty Club". For every pound spent either in our outlet or via the new Click & Collect system points and vouchers are issued which can be redeemed in store.

£1 = 5 points

For example....

Spend £200 and we will give you £10 to spend in the outlet during your next visit.

We would love your feedback on the changes made, if you have any comments, both positive or any suggestions please email matthew@ukwaterfeatures.com or call 01226 388889.

We reply to every email and love hearing from our customers.