5 Great Ways To Transform Your Garden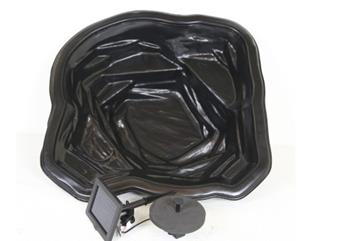 With the great British Summer just around the corner we are all looking forward to those long Summer evenings sat enjoying a glass of wine on the back garden. However with the long and very wet winter that we have had up and down the UK many of our garden will be in need of a mini make over.
Here are five great ways to transform your garden into a relaxing chill out spot this Summer.
Adding a garden water feature
Not only does a water feature add a fantastic focal point to any garden, they are great for providing a relaxing ambiance. This is achieved by installing a self contained water feature with a gentle flow of water. They are also great for attracting wild life such as birds to your garden. There are many styles of water features to choose from such as stainless steel, solar powered or even a larger more luxurious cast stone fountain.
Adding a garden pond
Adding a pond to your garden is a fantastic way to attract various wildlife to your garden. Birds and smaller animals such as squirrels will be attracted to the pond. Similar to a water feature they can help provide a relaxing ambiance especially if you install a small pond pump. Adding fish to the pond is also a great wildlife attraction as well as great insect control. As there are thousands of different spices of pond fish available on the market it is a good idea to do a little research before filling the pond to make sure that they are suitable for your environment and climate.
Adding a bird bath
As simple as adding a small bird bath to your garden is a easy win win. Bird baths are great at brightening up any outdoor space. They are ideal to liven up a drab looking corner of your garden and obviously attract wildlife especially birds during the Summer months as they come to cool off from the sun.
Adding Garden furniture
Now if you are wanting to create an outdoor living space where you can sit and relax you are more than likely going to need some garden furniture. When you are buying furniture pieces for the outside living space, you need to select those that are durable enough to withstand certain exterior factors such as the harsh Winter months or ones that you are able to take indoors when Winter does come around.
When choosing garden furniture you certainly have a lot to chose from from hundreds of different styles, colours and sizes you are going to need to pick one that suits your tastes and your garden design. Furniture suitable for outdoors can range from tables, chairs, recliners, hammocks, awnings, gazebos, multi-purpose benches, swings etc. that add character to the space. Other than making sure that the furniture that you chose is durable, you need to make sure that you chose one that is comfy and one that you can see yourself relaxing in. It is also very important to take into account the amount of space that you have available, always make sure to measure the desired spot before you commit to buying anything, just to be safe.
Adding Garden ornaments
Finally, simply adding a garden ornament or two is a simple yet highly effective way to add the final little touches to your garden or patio area. Garden ornaments can be anything from garden statues, small fountains, garden planters, water features, garden wall art or even garden gnomes! Adding a garden planter is one of the more popular choices as these can be simply filled with beautiful flowers to help brighten up your garden.
As you can see transforming your winter torn garden into something beautiful and relaxing this summer can be as simple as adding one or two little things to help brighten the place up. Transforming outside space into a living area remember to design it in such a way that it would reflect your own personal taste and individual style. You can rely on easy and affordable ways to make the area a lovely relaxing environment.