The all new Kelkay 2012 Exclusive Preview
We are pleased to have the exclusive preview of the new fountain range for 2012 from Kelkay, the UK's number one choice for resin garden water features.
The new range includes Traditional, Classic, Bronze Reflection, Natural, Contemporary and Statuary.
Favourites from the new range and predicated best sellers for 2012 include:
A new version of the popular Fluted Tier Fountain with a stone effect finish, two flowing tiers and built in white LED's at the top where the water bubbles out from. This fountain is suited to a more traditional garden and when running creates the soothing sound of falling water. RRP £169.99 (On sale from January 2012).
The Tree Cascade is a very realistic looking tree crag style water feature with built in LED lights. This would suit a well planted garden and actually looks like it is carved from a large tree stump. Water falls from the top and flows down a couple of drops before entering the drop pool at the base. Enjoy at night with built in white low voltage LED lights. RRP £199.99 (On sale from January 2012).
Contemporary water features have proved popular this year and we predict this trend will continue into 2012 as people opt for low maintenance modern gardens. The Serenade Fountain has a sitting lady and a well thought out mixture of resin and stainless steel. The lady's head offers reflections around the garden and built in LED lights where the water bubbles out a superb effect at night. If you're looking to add peace and tranquillity to your garden next year the Serenade Fountain is the one we would recommend. RRP £199.99 (On sale from January 2012).
Continuing the modern contemporary theme Kelkay has added the Vision Fountain, Garden Spring, Inspiration Fountain and Spirit Fountain to their range. If you have a big enough garden why not build the whole set into your design!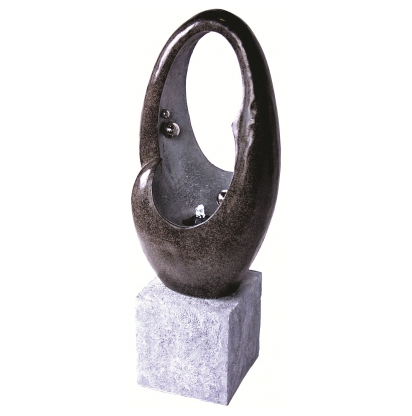 The Friendship Fountain has proved to be our best seller for the past two years so we are excited to see a new smaller version to the larger model. The Companion Fountain stands at just less than 80cm making this suitable for smaller gardens and patio areas. Just like the Friendship Fountain the Companion Fountain has built in low voltage halogen lights and is fully self-contained. RRP £149.99 (On sale from January 2012).
As always the new fountains are all fully self-contained and can be set up within minutes of removing from the box. All you need is included, just connect the pump and lights, add water and plug in. It really is that simple.
To view the full range of Kelkay Water Features, click here.
UK Water Features has the largest range of indoor and outdoor garden water features.