Stunning Indoor Water Features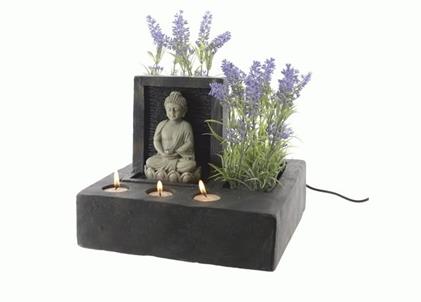 We're starting to think we might have seen the best of the summer weather!
As we're going to start wanting to spend more time indoors as autumn creeps closer, why not consider an indoor water feature?
Water features are an amazing décor choice for our gardens and create a lovely relaxing atmosphere as well as stunning decoration too, so why not add all these benefits to your interior decor?

There are some great health benefits of having a water feature indoors too, including:
Relaxation
One benefit as mentioned above, is the relaxing, calming effect of both the sights and sounds of the moving water. Water features can also be beneficial in spaces that may have stressors such as an office building. Water features may help to reduce stress levels and increase morale and productivity. The sound of moving water also offers a gentle white noise that can effectively block out distracting noises and help employees concentrate. Water features in the waiting areas of places such as hospitals and dentists may also reduce anxiety making the visit more pleasant for the patients.
Negative Ions
Moving water generates negative ions. There are advantages to having air full of negative ions and many electronic appliances and air conditioning deplete them.
Negative ions increase the flow of oxygen to the brain, resulting in higher alertness, decreased drowsiness, and increased mental energy. They may also protect against germs in the air, resulting in decreased irritation due to inhaling various particles that make you sneeze, cough, or have a throat irritation.
Negative ions may even increase levels of serotonin, which is a bodily chemical that enhances mood. Negative ions have the potential to help employees feel better both mentally and physically and moving water is an easy way to create those negative ions indoors.
Humidity
A third benefit to both those who live and work in indoor spaces is increased humidity. Having moving water will raise the humidity levels in the surrounding area. This is important in areas where the temperature is constantly regulated either with central heating or air conditioning. People will benefit by being more comfortable in the moist air and landscaping will be easier as many plants require high levels of humidity.
Here at UK Water Features we stock a fantastic range of Indoor Water Features that will be perfect for all rooms of the home. We have a great variety that will suit lots of décor schemes and styles and are all self-contained so no need to worry about finding a constant water supply!
We hope this short blog will leave you with a little bit of inspiration if you may be thinking of adding an indoor water feature to your home this year!
For a stunning contemporary display in your home, why not try something like these modern features? Our Pareto Pouring LED Lit Indoor Water Feature and our Calvera Ribbed Ball LED Lit Indoor Water Feature have lovely sleek designs that will look great in any room. With the built in LEDs these features will even look great in the night time!


Stainless Steel is another great material when it comes to decorating a modern home. Our Akra Water Feature looks fantastic on any surface in the home and reflects light of the column beautifully. A relaxing atmosphere is created as water bubbles over the top of the features and runs down into the pebbles below. Our features are very easy to set up so you can be enjoying the new tranquillity in your home in no time!

Add a touch of Zen to your home with our range of Oriental inspired water features. Again, these features are perfect for modern styled homes, and will match any rooms with a slight eastern feel to your décor. Check out our Buddha Fountain with Tealight Holders. We love the fact that this feature has space for your own plants and tealights, making it a more personal decoration. Why not add your favourite scented tealights making it a feature that will appeal to all senses!

Or how about our Parma Buddha Face Water Feature? Perfect for adding contemporary flair to your home. This self-contained water feature has built in lights meaning it is another fantastic feature that will look beautiful at any time of day or night! We love the natural colour of the feature allowing it to match many décor colour schemes.
How about our lovely pouring bowls water features which will be great for adding a touch of the Med to your home!
Our Kyoto Three Bowls Cascade Water Feature and our 3 Granite Bowl Water Feature are stunning indoor features with built in lights that create a great atmosphere in the home. We love the rustic, natural feel to these designs, helping them blend into modern or traditional styles of homes.


We love the ripple effects of these two features, both absolutely stunning decorations for a modern home! Our Oval Sandstone Wall Water Feature is a great idea for a unique décor feature, and easy to hang from a wall or fence. A great idea for rooms with limited surface space!


Our Tall Ripple Effect Sheet Water Feature look great with the warm white lights. Standing at 1m in height this is a taller feature but is still a great option for a home with larger rooms. We think this would be stunning placed in a hallway, greeting family and guests as they walk through the door!