What's Your Favourite Style of Garden and Water Feature?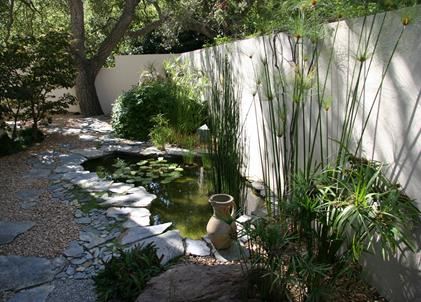 The New Year is a great time to be considering a change in your garden. Now we are into February we can start to fantasise about spring, it won't be long 'til it's here (thank goodness). Perhaps you fancy trying a completely new style this year. If so, this blog might help you to decide on a theme in your outdoor space and water feature to go with it!
There are lots of stunning garden themes out there to choose from, whether your tastes are modern or traditional, we hope we can assist in garden choices for 2017!
Traditional Garden
This is a very popular style of garden, particularly in this country as we try to achieve that typical English country garden styled space. This style of garden as seen below looks gorgeous all year round but especially in the spring and summer when all of the floral colours are in full bloom.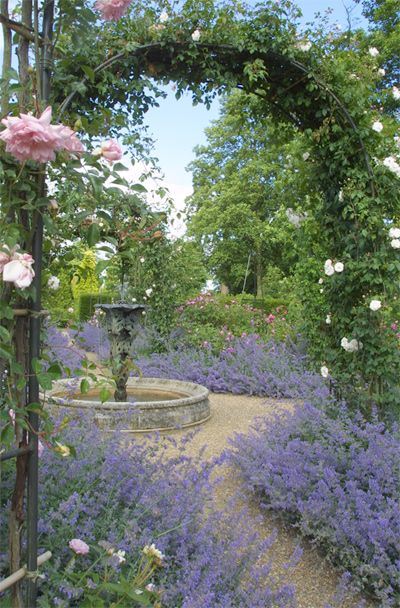 Image from Pinterest

If you're fancying trying this style, think pathways, hedges, rectangular lawn, garden gate and of course a rustic looking focal point.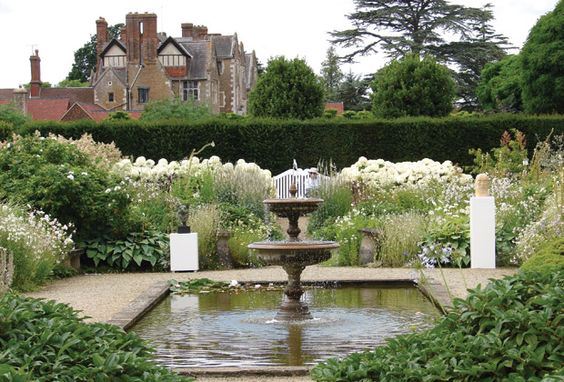 Image from Pinterest

The latter of those items we can certainly help with!
Here at UK Water Features we stock a fantastic range of water features and fountains that would look perfect in your traditional English garden. Anything with a rustic, old fashioned vibe would blend right into your new garden, just like this one here.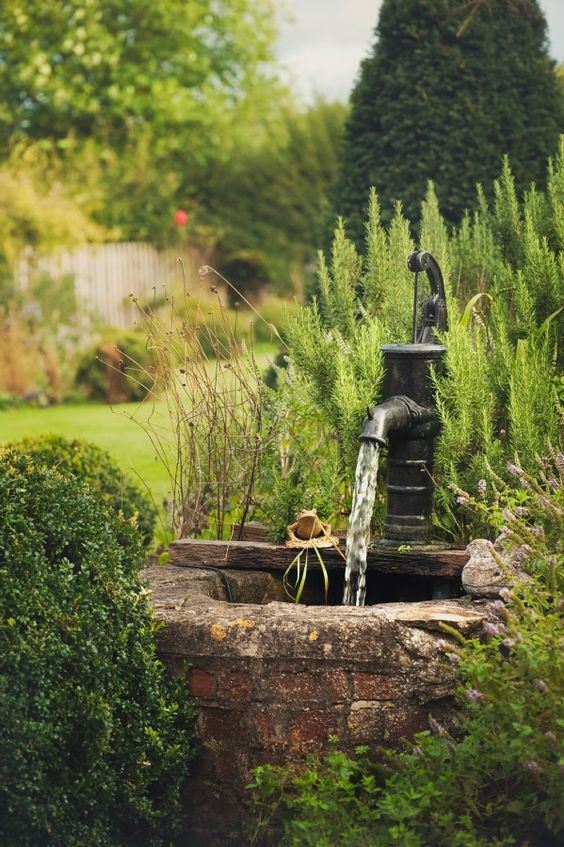 Image from Pinterest
Here are a few of our wonderful features that would be ideal to match this style…
Our Cast Stone Chanticleer Fountain will make a fantastic focal point in your garden, made from premium quality cast stone it's an item you can enjoy in your garden for years to come. We love the colour and it will blend straight into your garden rather than looking like a brand new feature!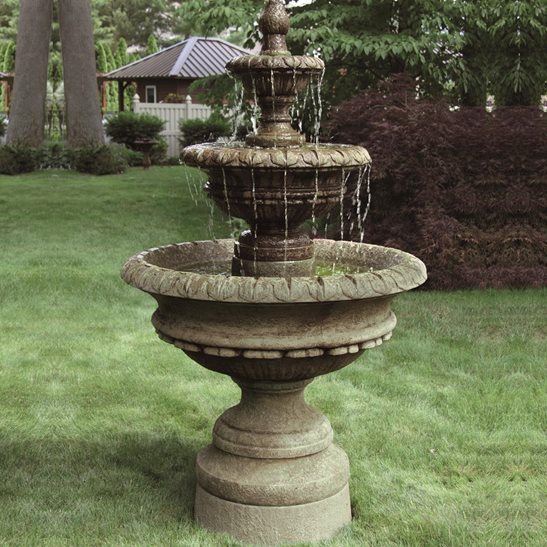 Another great feature is our Newcastle Wooden Barrel Water Feature. Place in amongst your plants and greenery, or next to your plant pots on a patio, it will look great anywhere! This fully self-contained feature is super easy to install, you'll be away enjoying it in your new traditional garden in no time.

This feature will look wonderful nestled into your garden and will add some character to your space, our Girl & Boy Under Umbrella Fountain is another great, rustic looking feature that will add an impressive focal point that can be enjoyed in your garden all year round!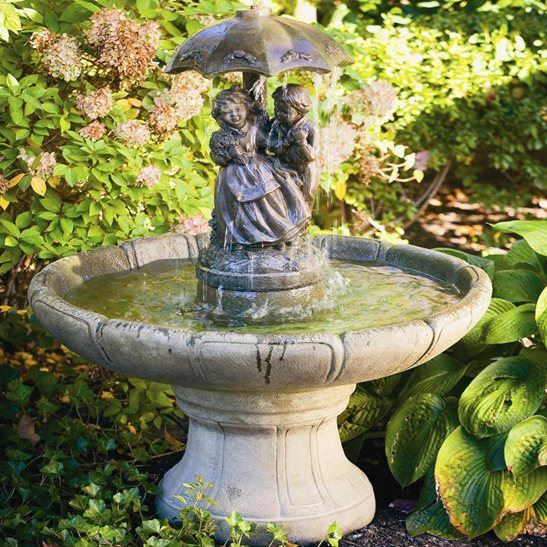 Contemporary
Perhaps something more modern will be right up your street?
Many of us are searching for the newest trends for the garden to create a sleek and stylish outdoor space that we can relax in during the spring and summer months.
These kinds of gardens look at minimalist decoration, monochrome colours, the use of different materials such as stone and wood, and vibrant green plants to contrast the natural background shades. We love the contrast of wooden decking and metal in the garden below.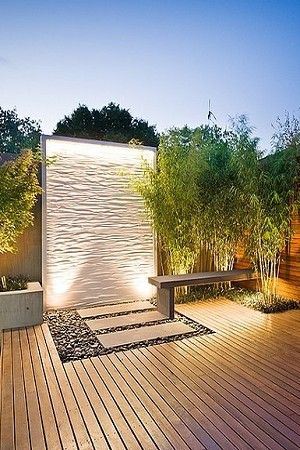 Image from Pinterest

A water feature can add something extra to your modern garden too. The trickling of water will create a super relaxing atmosphere when you're taking some time out in your modern garden this summer time. Something with a similar shape and style to this would be perfect.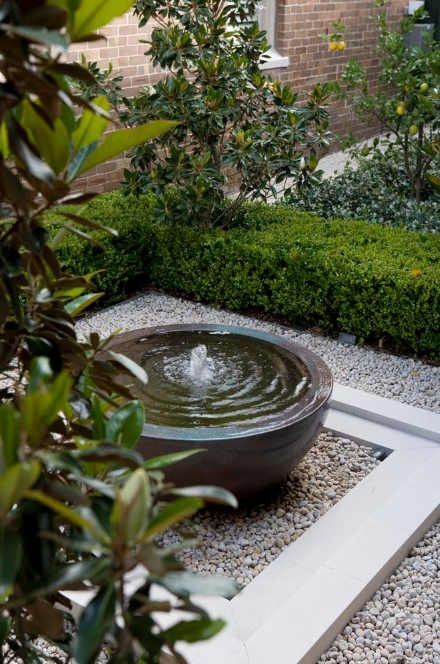 Image from Pinterest
Luckily here at UK Water Features we have a selection of stunning features that can tick this box!
How about something like our Rainbow Sandstone Babbling Bowl? The sleek design will fit right into your contemporary garden and we love the unique colours that the material will bring to your garden.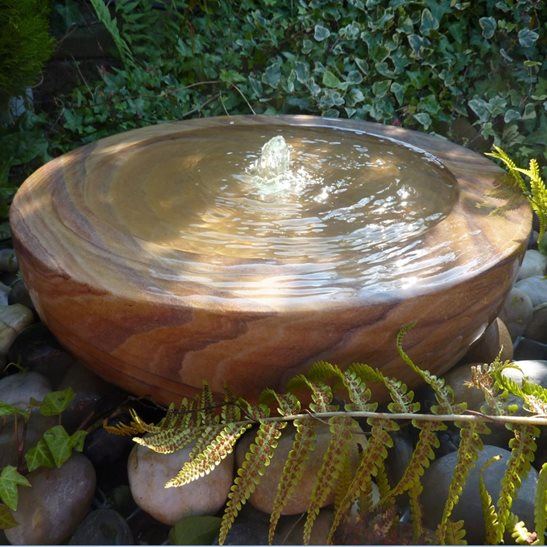 Water blades are one of our most popular types of features and can be easily incorporated into your garden in many different ways. They can create a whole feature on their own as seen below, or can be built into an existing wall. They're a very versatile type of feature that you're also able to add lights to, meaning it can be enjoyed during the day and the night!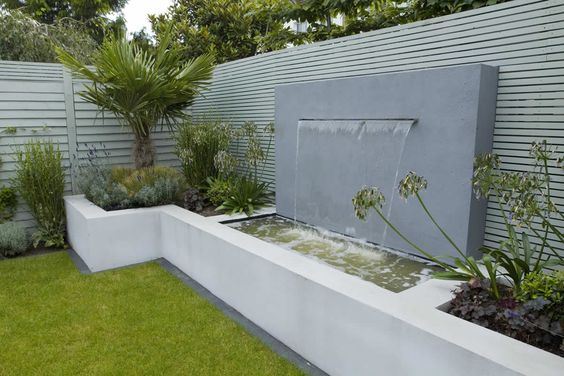 Image from Pinterest
Asian Style 'Zen' Garden
Create a tranquil back garden with an eastern style of decor!
No matter how big or small, a Japanese themed garden will be the perfect area if you're looking for peace and relaxation.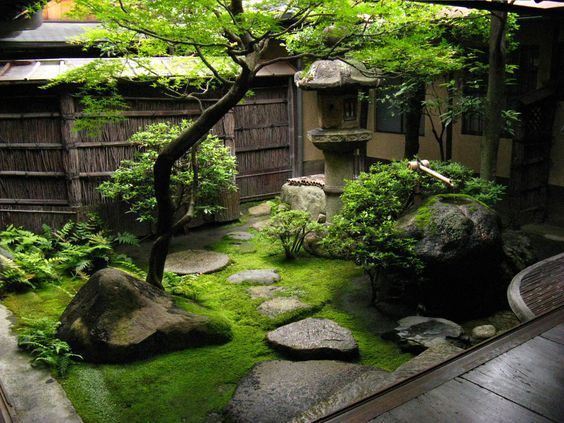 Image from Pinterest

This is a great image below, if you're lucky enough to already have a pond like this in-situ you can absolutely use it to its full advantage by adding in stepping stones as seen here. This garden is also a great example of a good use of colour and plant placement in a 'zen' garden.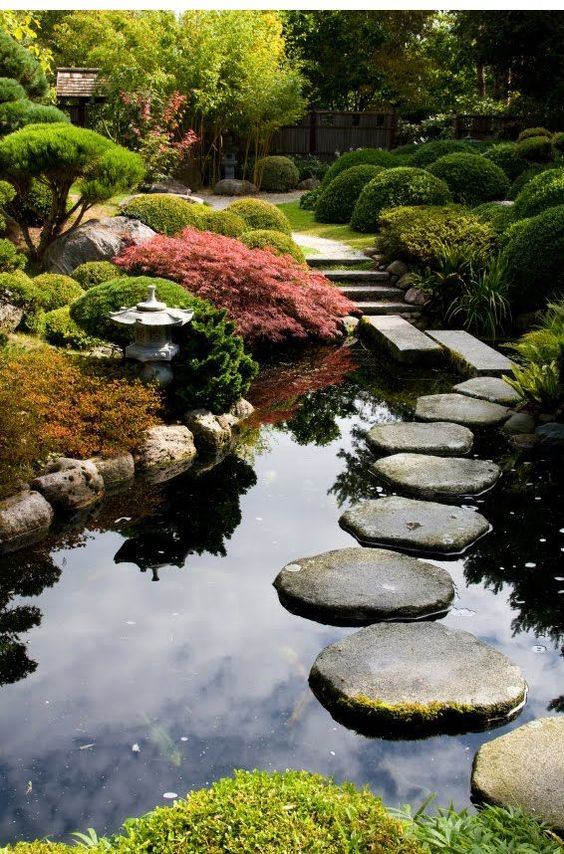 Image from Pinterest
For this style of garden you might want to think of adding in pieces of art such as stone sculptures, as well as meandering paths and typical Asian plants such as Japanese maple and Bamboo. Again a water feature can make your new garden even more tranquil as the trickling of water can be heard in the background.
We have some great features that will look perfect in this kind of garden, such as our Medium Buddha with Crystal Ball. Water bubbles underneath the crystal ball making it spin, and during the night time a cluster of LED lights will illuminate this, meaning it can be enjoyed any time of the day or night.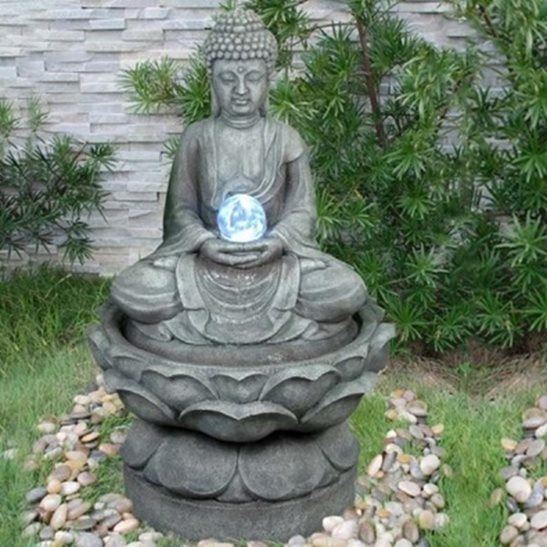 A feature like our gorgeous Pagoda on Column Lit Water Feature would also be perfect for your new Zen garden! Made from durable polyresin, it is a feature than can be enjoyed for years to come! This is another feature that has built in LED lights meaning it can be a great focal point at any time of the day or year! Its typical eastern style will mean it will definitely create the perfect Asian atmosphere in your outdoor space.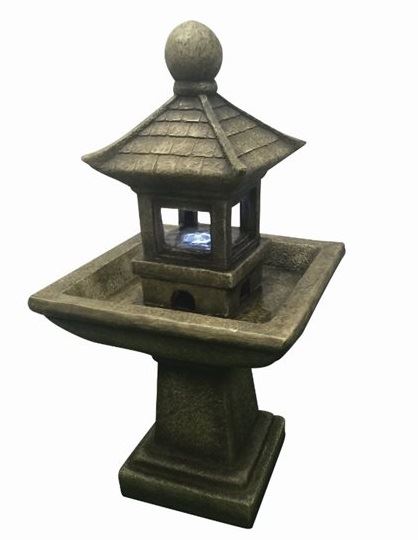 Natural Woodland Garden
Perhaps you want your garden to be more of a no-fuss space?
A natural woodland garden might be more to your taste, where your space can be left to look more rugged and wild.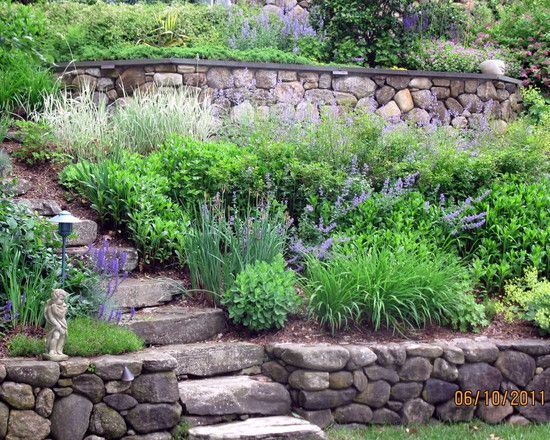 Image from Pinterest

In these types of gardens you can expect to see stone walls and paths, a variety of plants and trees of different styles and colours, randomly shaped lawn, and uses of different levels. Anything goes really in a woodland garden, and you can make it even better with the use of a natural looking water feature.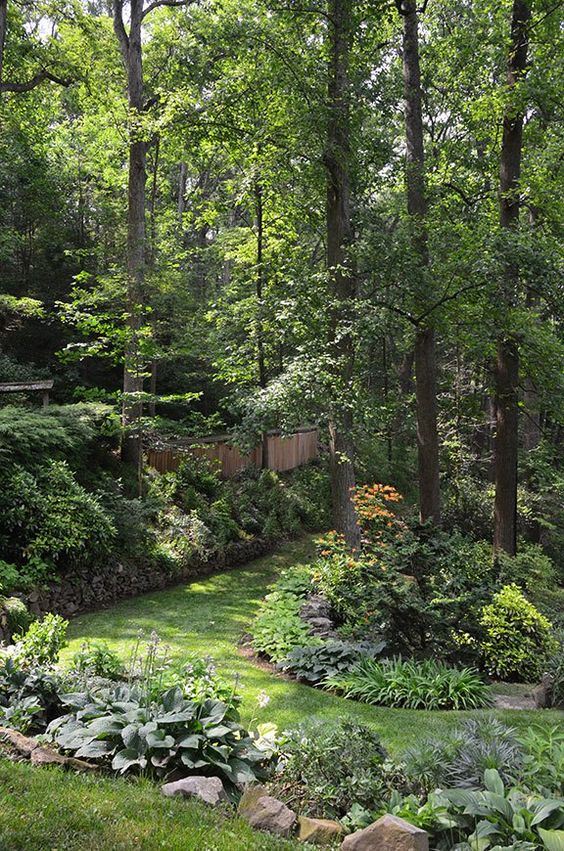 Image from Pinterest

Our Four Falls Rock Cascade is a feature will do this brilliantly. The natural slate-look material will blend right into a natural garden and a calming atmosphere will be created as the water trickles down from the top of the feature to the pools below.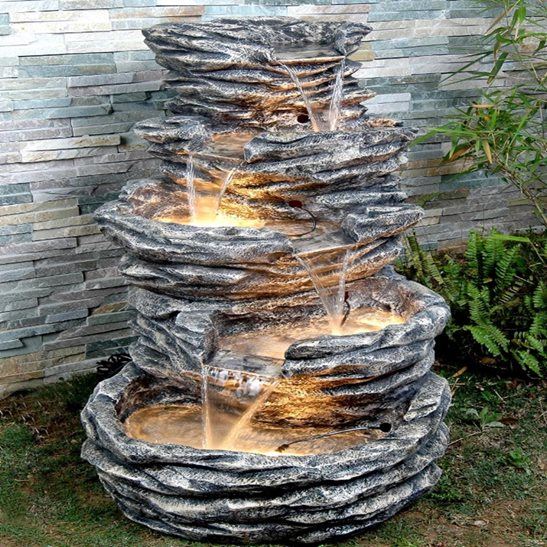 Create a lovely rippling effect with our Snowdonia Rock Cascade. This feature is finished to a very realistic, rustic, slate appearance and the three pieces can be positioned how you wish to create the feature just how you like it!

Perhaps an eye-catching feature like this would fit into your new natural garden? Our Basalt Babbling Column will definitely add something special to your woodland garden and the kit has everything you will need to set up your feature in no time at all! This is a fantastic hand carved natural looking feature that will be a stunning addition to any garden!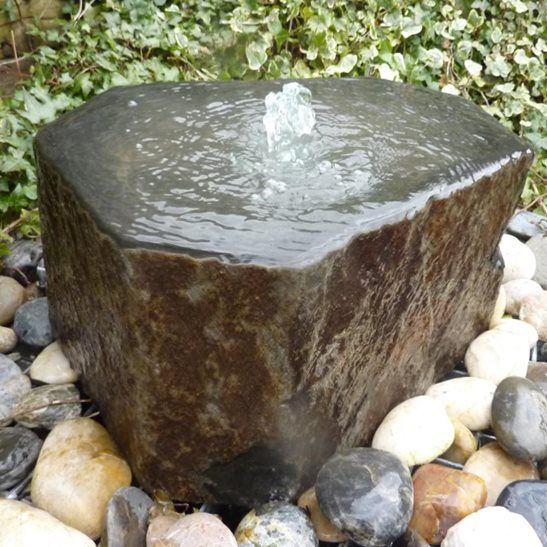 Mediterranean Garden
Want a feeling of the Med without even leaving your home?
We can help you to create your very own Mediterranean style garden that you'll be able to enjoy all summer long without the stress of booking a holiday!
Inspiration can be taken from images like these…
Make sure your new styled garden has a terrace area, garden lighting, terracotta pots, topiary trees and brightly coloured flowers!
We love an idea like this below, maybe you could incorporate trellising to have flowers growing all around like this.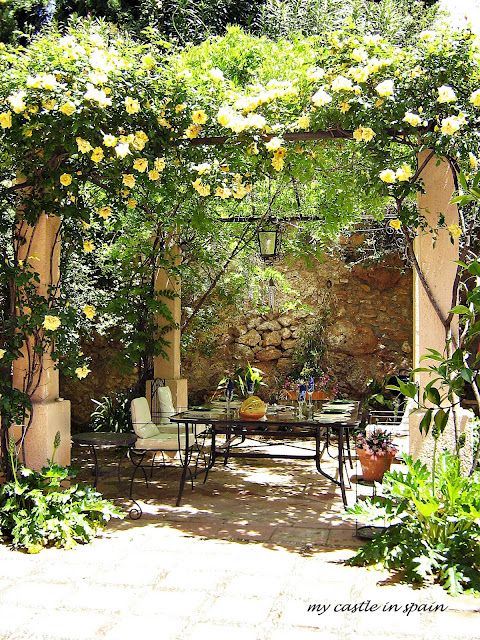 Image from Pinterest

We also love the design of this space and how sleek and summery it looks! This is a great use of plant pots in a patio area in true Mediterranean style!

Image from Pinterest

Maybe you could incorporate your pots and a water feature together with a lovely item like this. Our 3 Stacked Pots Lit Water Feature will look great displayed on a patio or nestled amongst plants in your garden. Add a traditional, rustic feel to your garden this year and sit back and enjoy the relaxing atmosphere a feature will create.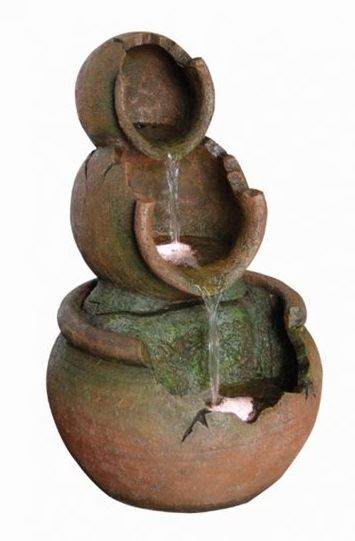 This water feature would be just perfect for your Med garden!
This is a fully self-contained Demeter Cretan Pot Water Feature and it will surely be the talking point of your garden. It is a super stylish option that also fits into your rustic and authentic space. Each of these water feature are handmade so are totally unique, grab yourself an amazing deal as they're available for just £299! Here at UK Water Features we're proud to say we're the only online retailer to offer these stunning water features!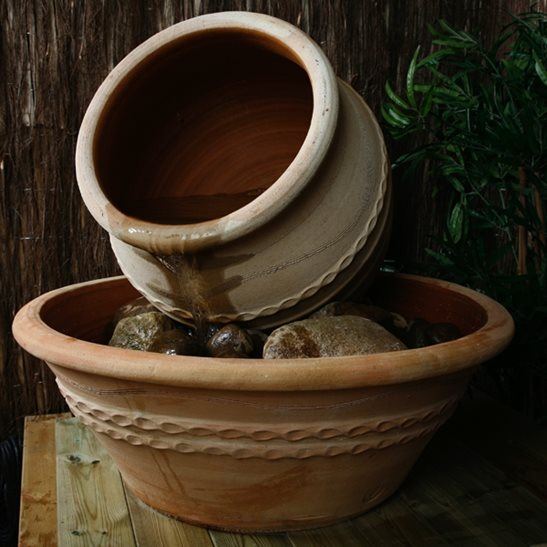 We hope this blog will have assisted you in choosing a new design for your feature and has given you some inspiration of water features and decorations that will go with it.
Head over to our UK Water Features site to browse our full range of Indoor and Outdoor Water Features, Ponds and Water Feature Accessories!